EAGLE POINTE RECREATION CENTER
By: AE Design | http://www.aedesign-inc.com/eagle-pointe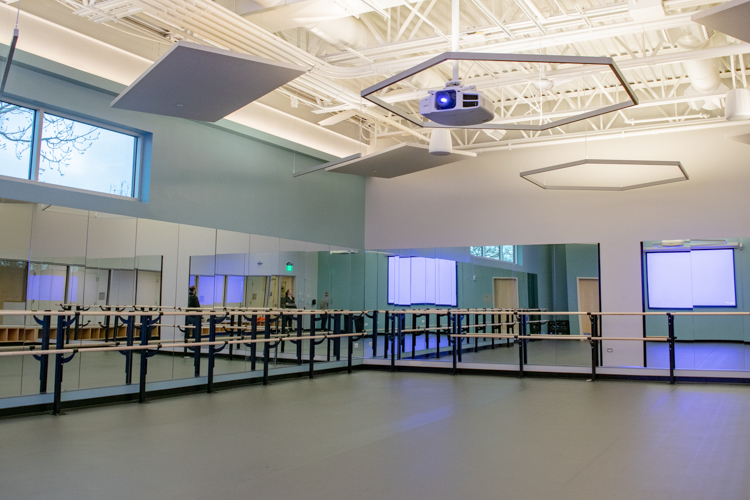 The popular recreation center provides a wide variety of health, fitness, creative programs, activities and classes to the Commerce City community and underwent major renovations to most of the 67,000sf facility, including a 6,000sf addition. With the goal of design innovation while melding the existing and the new, Eagle Pointe Recreation Center was a design challenge.
Lighting Design & Electrical Engineering Design
Almost all areas were updated with new lighting, lighting controls, electrical, and technology changes. It was a puzzle to combine new lighting with old and continue the use of the building"s existing controls and power systems, but the end result is seamless. In addition to new lighting controls throughout the entire space that helped with occupancy and dimming, some fun RGB lighting and controls were incorporated in group exercise classes. The reception desk also included a master shut off for all lighting in the rec center anytime during the day, and an automatic shut off after closing.
Audio / Video Design
To accommodate a large list of owner requirements upgrading the technology designs, such as the large video wall in the cardio area, we coordinated closely between designers and recreation center management teams. Extra care during design and construction was required to integrate the new Audio / Video technology with the lighting. AE Design"s design goals for the Cardio Room revolved completely around the guest experience. In order to provide a customize able experience to guests, we calculated and specified a projector and emissive TV combination in the room, careful to match the brightness of the different displays. To give guests individual control, sound can be accessed via phone app digitally and privately accessing sound of each of the display screens. During group exercise activities, such as movie night utilizing the large projection screen, column array speakers can be utilized to help immerse the group. Overall, the project is not your typical recreation center. We made strategic upgrades, utilized lighting in creative ways, and selected fixtures, helping to highlight a unique gem for the community.
Environmentally Friendly Locker Rooms Can Lead to Savings
By: Kelsey Cipolla, AIE - June 1, 2013 | Originally published at www.clubindustry.com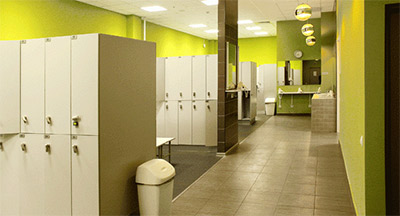 Locker rooms are high-traffic areas that use large amounts of energy and water, and purchasing products that reduce the amount of energy and water wasted can be good for both the environment and a club"s bottom line.
The Columbia Association, a Columbia, MD-based nonprofit organization that operates three health clubs, implemented large-scale energy saving measures in its locker rooms, including energy recovery units that use existing heat in the air to help heat air coming in and reduce humidity. The association also installed a water-cooled condenser bundle that uses heat from the air to heat water being used for showers and laundry, which conserves energy.
"You really have to start with where you can make the most impact, and that would be the locker rooms," says Dennis Mattey, the Columbia Association"s director of construction.
Although these long-term investments come with a large upfront cost, Mattey says they make sense for his facilities and others that have significant energy costs. The Columbia Association also is in the process of constructing a new facility, which will feature recycled countertops, ceiling tiles and carpeting.
Using eco-friendly or recycled materials when constructing or renovating locker rooms allows health club operators to go green from the ground up. Environmentally friendly products can cost 3 percent to 5 percent more than traditional products, but many companies are now recycling old materials to make new ones as part of their manufacturing process at no additional cost to consumers, says Christa Plaza, owner of Essenza Architecture, a Louisville, CO-based firm that specializes in green design.
"For a long time, they were just so expensive, but now that"s starting to change," Plaza says. "It used to be kind of unattainable for some clubs. Now, it"s like almost everyone can do it if we design things properly and help them with the products."
Plaza says that installing low-water-use plumbing fixtures and LED lights, which use less energy and last up to 10 times longer than traditional incandescent lights, can make a big difference on utility bills.
Other Ways to Go Green
Lockers also can be made of recycled materials, but there are other materials and processes that help make lockers even more environmentally friendly. Using wood veneer instead of solid wood to make lockers reduces the amount of wood wasted by around 60 percent, which translates into fewer trees being used, says Rebecca Tearman, marketing manager for Hollman Inc., an Irving, TX-based manufacturer of environmentally friendly lockers.
Hollman lockers also go through a water-based UV finishing line, which does not contain volatile organic compounds, substances that can affect indoor air quality and have been linked to health risks, Tearman says.
Health club operators do not need to renovate their locker rooms to introduce green products. Even small changes can make a positive environmental impact, says Brian Kincaid, marketing director for health and fitness for GOJO, Akron, OH, which produces green certified hygiene and shower products.
Providing green hand sanitizers can help improve hygiene without requiring members to use water or paper towels, and green shower products reduce the amount of harsh chemicals that are rinsed down the drain and into the water supply, Kincaid says.
Using green products also can be a selling point for members.
"The environmental responsibility that the clubs take is becoming more and more important to members in their own daily lives," Kincaid says. "They"re becoming more educated and aware. If they"re putting down a significant amount of money for a health club, they want that health club to reflect their values as well."
For Healthworks Fitness for Women, Boston, the effort to go green began in 2007 as an extension of the company"s emphasis on the community and a way to differentiate the facilities. Healthworks eliminated paper towels and installed hand dryers. It also began using green cleaning products and switched to LED lighting, says Mark Harrington Jr., executive director of Healthworks. The decision to go green helped more than members and the environment, he says.
"Not only has it been good for our corporate image, but it"s also been helpful for the utilities," Harrington says. "It"s very easy to continue doing what you always do. It"s important just to take a look and evaluate the full impact. I think our CFO was surprised at some cost savings we could realize for doing something that was also good. It"s kind of a win-win situation."
Cafes that Create Cash Flow in Your Health Club
By: Christa Plaza, AIA - September 1, 2012 | Originally published at www.clubindustry.com
Do you ever wonder why Starbucks is so successful? Well, obviously the company serves great coffee, but so do a lot of other coffee shops. Starbucks is successful because it was the first coffee company to offer a social atmosphere with soft seating, mood lighting and music that keeps people coming back for more and makes for profitable café space.
When adding a café to your fitness facility, you should take a cue from Starbucks. The following are five elements you must consider to make your café successful:
Location. Your café should be located toward the front entry of your facility because that places the café in the highest traffic area of the club, giving it the best exposure to members.
Clientele. The type of members your fitness facility attracts plays a role in the design of the space. To support a variety of customers, you need to provide different types of seating for different activities. For computer junkies, you need tables and chairs with plenty of space for their computers and notes. For social butterflies, soft seating arrangements create a nice lounging space for conversation. And for workout enthusiasts who need to eat and run, stools with a countertop provide a quick in-and-out option.
Amenities. Depending on the level of service of a club, the amenities you offer may be different. A lower-budget club might offer vending machines with healthy food options and pre-packaged foods, which keeps the design and construction costs of the kitchen down. Mid-level clubs might offer a smoothie bar and a small menu of food options for members. At a full-service club, the café could provide a full menu of healthy food options that are prepared fresh. Do not forget to carefully look at the members at your club to determine what will support their café needs.
Wireless access is a must in any café today. Creating a cyber lounge where people can connect via the Internet or in person also will attract more people to your café. Another café amenity is a TV, which can show music videos, news or stock market updates, depending on your members. A TV can help keep your members there. Private meeting rooms also are valuable offerings in mid- to higher-range clubs and can be rented out for a small fee.
Six Fundamentals of Good Locker Room Design
By: Christa Plaza, AIA - July 1, 2012 | Originally published at www.clubindustry.com
Designing locker rooms that are inviting yet functional can help create a better experience for health club members. Locker room designs depend on the types of members at a health club since different types of clubs appeal to different types of members.
Here are key components to keep in mind for locker room design:
Locker materials. Recreation centers often use utilitarian lockers made out of heavy-duty materials, such as phenolic or plastic laminate. Phenolic is a strong, scratch-resistant and versatile plastic resin material that is typically more expensive than plastic laminate but will last much longer and be easier to maintain. It comes in a wide variety of colors and wood-look finishes providing for many applications.
Private and boutique clubs use these materials, too, but they also use wood lockers. Wood lockers can be designed and customized with specific profiles and typically have more custom options and electronic locks. Custom shoe shelves and safes for valuables also are some custom options for these types of lockers.
Locks. Locker hardware varies depending on the clientele and usage. For recreation centers, hasp locks might be a good option. These locks are ones that members either bring in themselves or borrow from the club. Members also could pick up basic key locks at the front desk. If you choose this option, you will need to create space at the front desk to store the locks and keys. This option also requires more reception staff time and coordination. One of the best locks to use is the electronic lock that is similar to safe locks in hotel rooms. Members enter in their own code to lock and unlock their lockers. This option is great for all varieties of clubs but is more expensive than the hasp or key systems.
Circulation. Layout is essential to keeping members moving to, from and within the locker room with comfort and ease. The central circulation path should allow enough room for two people to walk side by side. Dry locker areas should be easy to access but somewhat private so members do not feel exposed while changing. It is ideal to have a locker room layout where the wet and dry vanities, as well as the showers are in a central location so the travel from wet to dry areas is somewhat close.
Design Essentials for Creating a Successful Spa Business in Your Health Club
By: Christa Plaza, AIA - May 7, 2012 | Originally published at www.clubindustry.com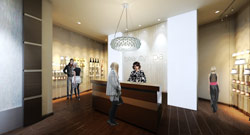 When people visit one of your spas, their worries should be forgotten and relaxation should set in. Places like the Qua Spa at Caesars Palace in Las Vegas and Spa Vital in Cherry Creek, CO, have captured this concept and delivered it to spa enthusiasts. These spas create a lasting memory through design and superior service, just as your spa should do.
The following are some design essentials for creating a successful spa business in your health club:
Location. Has anyone ever told you that location is key? Well in this case, it is vitally important to have the spa entry easily accessible from the club entry. Whether you are trying to attract members from outside of the club or entice existing members to use your spa services, the spa must be one of the first things seen from the front entrance of the club.
Atmosphere. Upon entering through the spa doors, your clients should instantly feel a transition in mood and ambiance. This can be achieved with soft lighting, water walls and a soothing greeting from the staff. Changing the lighting to soft and indirect will help create a more relaxing atmosphere. The sound of water or nature sounds in the background are design elements that can enhance the atmosphere and help your clients" transition into a tranquil environment.
Also part of the transition is going from street clothing to the soft plush robe and moving into the relaxation room, which is a critical part of the spa program. This room could have running water, a tea bar, light, healthy snacks and more. This space provides a quiet waiting area where clients officially get into the spa mood. The Spa Vital has two wading pools at different temperatures, along with steam and sauna rooms to relax before or after your treatment. These features enhance the spa experience and create an ideal environment in which to escape.
Materials. The materials in the room must withstand the activities and services being performed within. For example, a wet treatment room typically should be all tile to become like one large shower space, so that water can get anywhere and maintenance is easy. Massage rooms that do not include water can be designed with materials that help with sound and ambiance. Because clients will be on their backs for some treatments, ceiling materials must also be considered in the design.
How to Create Pools at Your Fitness Facility That Will Amaze Your Members
By: Christa Plaza, AIA - April 4, 2012 | Originally published at www.clubindustry.com
Envision a warm lounge pool where your members can relax, an intense competition pool loaded with top-notch swimmers, or a beach-like entry where you can sit with your kids. These are just some of the vast pool solutions that can provide your members with what many consider to be the perfect form of exercise. Swimming provides excellent cardiovascular conditioning while building strength and increased flexibility and working all the major muscle groups with minimal stress on the muscles or joints. Offering water-based individual and/or group swimming programs can help increase profitability and create an activity center for all ages, contributing to your ultimate goal of member satisfaction. Ensure success by keeping these factors in mind when designing the perfect pool at your facility.
Members. The key is to understand your members" needs and keep them in mind during the early design stages. Researching the demographics in your area is the simplest way to determine which potential members will be using your space. Is your pool located in a suburb with families? These members might like a pool that includes kids features and shallow depths. Is your facility in a swanky downtown environment with corporate clients and urban professionals? Lap pool space and warm water pools to sooth the stress of the work day could appeal to this group. Consider including lounge pools, hot tubs, tropical showers with nature sounds, cold plunges, waterfalls, arctic snow rooms and Turkish baths. Some clubs have multiple member types. To create an environment for adults and kids, keep in mind both of their needs. This will ensure that your aquatic area is a success by attracting new and existing members.
Acoustic design. When you have mixed member clubs, the acoustic design becomes critical to maintaining enjoyable sound levels. Avoid tile, concrete and steel-framed roof systems as these materials create an environment where sound bounces around and can be loud. The design and placement of acoustical panels are key in sound reduction. They can be placed on the walls and ceilings to help soften the sound, as well as create decorative design features. Consider textured, waving, corrugated, and perforated elements like those featured in the photo above. Make sure to keep form and function in mind to create a pleasing design while also absorbing the sound. Keeping the noise level to a minimum translates to a more enjoyable space for your members.
Workout Spaces Should Entertain and Engage the Health Club Member
By: Christa Plaza, AIA - February 7, 2012 | Originally published at www.clubindustry.com
If you have been at one of the newest sports arenas or at one of Las Vegas" trendy casinos, you likely remember that those venues stimulated each of your senses, creating an almost fantasy-like experience. Now, think about your typical fitness club where a sea of gray equipment appears in monotonous straight lines, surrounded by bland wall colors and fluorescent lights dangling from exposed beams. Which environment are you likely to spend the most time in, and more importantly, which physical environment are you likely to spend the most money in? Chances are that most of you would say the casino or sports stadium, but it should not be that way. Members should rave about the atmosphere of health clubs, too. Why not create an exciting space with beautiful rolling curves where the equipment helps define the experience, the colors build excitement and the lighting creates energy?
The goal of creating engaging fitness and workout spaces is to provide a physical environment that invigorates and seduces your members so they will return. By creating dynamic spaces, your members will enjoy working out, and your trainers will be able to perform at their best. A well-designed facility should induce passion while providing good circulation, interesting equipment layouts, proper materials, visually pleasing colors and great lighting design.
The foundation of any good design is the circulation path, especially in a fitness area where many members move from the entry to the locker rooms, locker rooms to the fitness floor, and finally among the various activity spaces. Circulation is integral to a successful club layout. The design must create movement and flow, as well as present a sense of space where members are not falling over each other. Doing so creates more interest in the workout space, which in turn enhances the member enjoyment factor.
In addition to good circulation, innovative equipment layouts can create exciting visual interest in a large fitness space. A layout with a soft curve can enhance the appearance and feel that accompanies the typical layout that stacks treadmills, elliptical machines and other pieces of equipment in neat but monotonous queues. Large lines of equipment are best replaced with "mini" workout spaces (zones) that separate the equipment and create workout communities. (As in the example shown in the drawing above). One concept for arranging selectorized equipment is to lay it out in a "pod-like" formation using circles or ellipses. This provides a more socially interactive environment for trainers to work in and for members to work out in.