Return To Blog
Our clients share their experiences. See how Essenza Architecture can help you conceive your vision
---
By Christa Plaza - July 16, 2020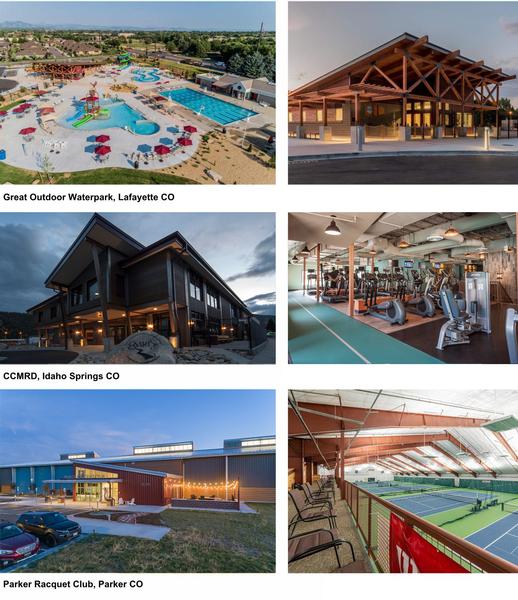 Essenza Architecture created a world of fun and good family times for our citizenry and surrounding region at the Great Outdoors Waterpark in Lafayette.  One of many projects successfully designed and executed in Lafayette, Essenza Architecture played a key role in making sure our constituents were provided the best possible experience and enhancement to the community's quality of life.
Monte Stevenson, Director Parks, Recreation & Open Space Dept., City of Lafayette CO
Essenza provided the very best personalized attention to every detail of the project and the relationship with the staff, the board of directors, and community members.  Essenza ensured our facility was as environmentally friendly as our budget could afford.  We were able to qualify for utility rebates due to the systems and construction processes put in place.  Essenza worked with us to understand the benefits and costs of each and every component of our building.  Essenza truly understood our desires and our budget and worked tirelessly to ensure we were able to deliver a completed project to our community on-time and on-budget.  Their understanding of my vision and their thorough design skill ensured our project became the centerpiece of the community.

Essenza helped us through the entire construction process by working with our contractor to ensure every aspect of the project was completed, inspected, and approved.  Essenza was with us the entire way from initial inception to the ribbon cutting and beyond.  They met every deadline we asked of them and went above and beyond to help us ensure the project was completed on-time.

Without Essenza's presentations and support at our public meetings, we never would have convinced our community to support the mil levy increase.  Essenza provided all documents, presentations, and artistic renderings to show the community what we planned to deliver.  The greatest part is that those initial concept drawings were perfect representations of the final project.  I can't tell you how many community members thanked me for staying true to our promise.

Christa was there with me the entire time… she was relentless in staying in contact with me, guiding me, and helping me make decisions to keep the project moving forward.  She totally understands what it takes to keep a project on track.  From weekly meetings with the general contractor to assisting me with equipment and furniture selections and layouts, Christa was a rock star."
Dane Matthew, Past Director CCMRD, Idaho Springs CO
"I am writing this as an enthusiastic letter of recommendation for our amazing architect, Christa Plaza of Essenza Architecture in Lafayette, Colorado.

Our first step was to create a presentation for the Parker Town Council aimed at convincing them that our proposed tennis facility was the best use for their 5 acres.  We began by having Christa evaluate the 5 acre plot and create a Site layout that maximized the space and amenities.  Christa's design was very well received by Council and our project was unanimously approved by Council, the project could move forward.

We hired Christa to fully design our facility which included; six indoor tennis courts, four outdoor tennis courts, welcome center, a patio, a courtyard, and parking.  Christa created a fantastic and unique design always asking for input along the way, she showed incredible patience as she explained the very basics to us, sometimes several times.

Once we decided upon and loved the facility design Christa walked us through the submittal and Site approval process with the Town of Parker.  I have been told by other developers that the Town of Parker is one of the most demanding towns to build in as they have severe restrictions and standards for contractors, architects, and owners.  As expected, the Site approval process was long and sometimes frustrating, Christa's knowledge and patience was invaluable as we went through the process." 

Once again, our Team would enthusiastically recommend Christa Plaza to anyone seeking to design and build. 
Barry Riddle, Parker Racquet Club, Operating Manager, Parker CO